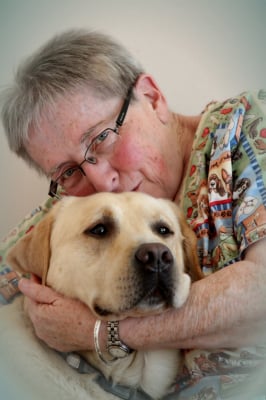 Marjorie C. McMillan, DVM
     Dr. Marjorie McMillan is the owner and visionary behind the Windhover Veterinary Center.  A 1974 Summa Cum Laude graduate of The Ohio State University School of Veterinary Medicine, Dr. McMillan has worked tirelessly throughout her career to improve the life and health of companion animals.  Dr. McMillan completed an Internship at Angell Animal Medical Center and went on to fulfill requirements for a Residency Program in Radiology, studying at Angell, Tufts University School of Veterinary Medicine, and the University of California at Davis.

     A Board Certified Veterinary Radiologist, Dr. McMillan is a pioneer in the field of avian radiology, developing standards for the field and authoring textbooks that established radiology as a primary diagnostic tool in the practice of avian medicine.  A leader and teacher, Dr. McMillan has inspired many veterinary students to study and practice avian medicine.  Dr. McMillan opened Windhover in 1992 to provide high-quality compassionate care to animal companions in a gentle, supportive environment.  Specializing in birds, dogs and cats, her reputation for exemplary medical skill draws clients from all over New England to Windhover.

     Believing that each and every living being deserves to be treated with respect, Dr. McMillan provides care to the patients of Windhover according to the philosphy that, "in the end, only kindness matters."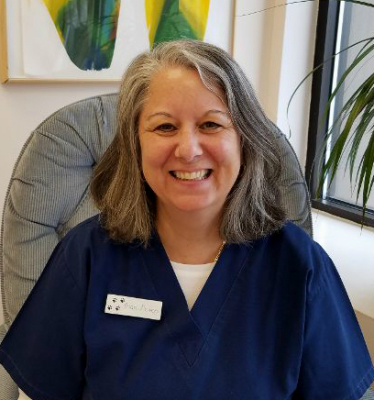 Joan Powers, Hospital Manager
     Joan Powers has been the Hospital Manager at Windhover for the past 19 years.  Coming from Family Practice management, Joan is always working toward greater efficiency and organization to the way we deliver services to our patients and clients.  Her excellent skills at working with clients enables her tackle the inevitabel but difficult job or conflict resolution in a fair and balanced way.  Joan earned a Bachelor's degree from Lesley University in Business Management where, among other things, she learned the importance of meeting clients' needs with regular contact and follow up. Joan is always looking for ways to improve our work and is always interested in hearing what our clients think about our services.  When not at Windhover, Joan enjoys photography, crafting, crocheting and spending time with her family.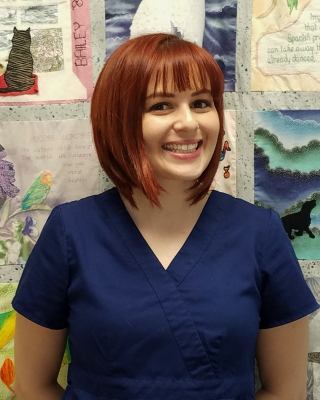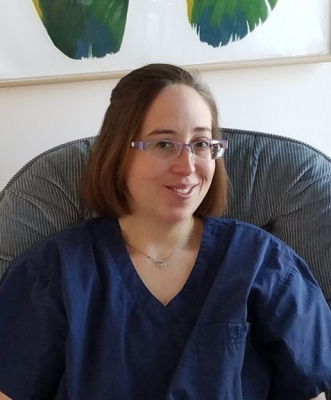 Kendra Chavarria, Vet Tech
Tenara Kuznezov has been a part of Windhover since she graduated from Mount Ida College in 2012.  She graduated Summa Cum Laude with a Bachelor's degree in Veterinary Technology.  She is a Certified Veterinary Technician with a passion for weight management,  environmental enrichment, and clinical laboratory diagnostics.
     Although she is a fan of all species, big and small, Tenara has a soft spot for cats, as her own cat's illness helped her decide on a career in veterinary medicine.  She believes in creating a stress-free and enjoyable visit for both patients and their owners.  When not a work, Tenara is having adventures with her young son and husband, caring for her three cats, or reading.
     Kendra Chavarria is part of our technical staff.  Kendra has had a love for animals since she was very young.  Initially, Kendra pursued a career in carpentry but has found working in veterinary medicine much more fulfilling and rewarding.  Previously, Kendra spent two years living at a veterinary hospital to care for the hospitalized and boarded animals durring off hours.  During those hours she made sure to give them extra care and love.  This helped to keep the animals comfortable during their time away from home.  She has a special interest in exotics not only because they are so interesting to her but also because they are so innocent looking.  Kendra is always looking for seminars and online courses  to participate in so she can continue to learn new things pertaining to her job at Windhover.  When she is not at work Kendra like to go snow-boarding, hike with her dog Lexi and snuggling with her cat Zoe.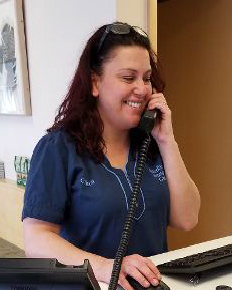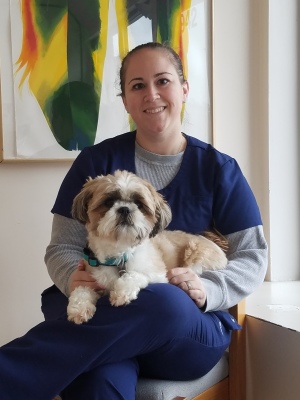 Colleen Roback has been part of the team at Windhover Veterinary Center for 8 years as a Client Coordinator.  She is the empathetic voice you will hear when you call the clinic.  She comes to us with valuable experience having worked at a previous veterinary hospital and Mansfield Animal Shelter.  Colleen has dedicated her life to cat rescue work and betterment of the lives of shelter animals.  Her goals are to provide each patient and their owner with love, dedication and affection.  In her spare time she enjoys spending time with family, friends and her cats.

 Kristen Saulnier has grown up surrounded by animals.  She has spent a significant amount of time in the veterinary world dealing with medical issues for one of her beloved dogs.  That coupled with her medical knowledge and a love for animals makes her a terrific addition to Windhover Veterinary Center.  As our Client Coordinator she will greet you on the phone and at the front desk.  When not at work, Kristen spends her time with her family, her dogs , going to concerts and working on her photography skills.  Her other passion is spreading awareness for the need of organ donation and being part of the Hunter's Run Foundation, a non-profit that also raises awareness for organ donation.